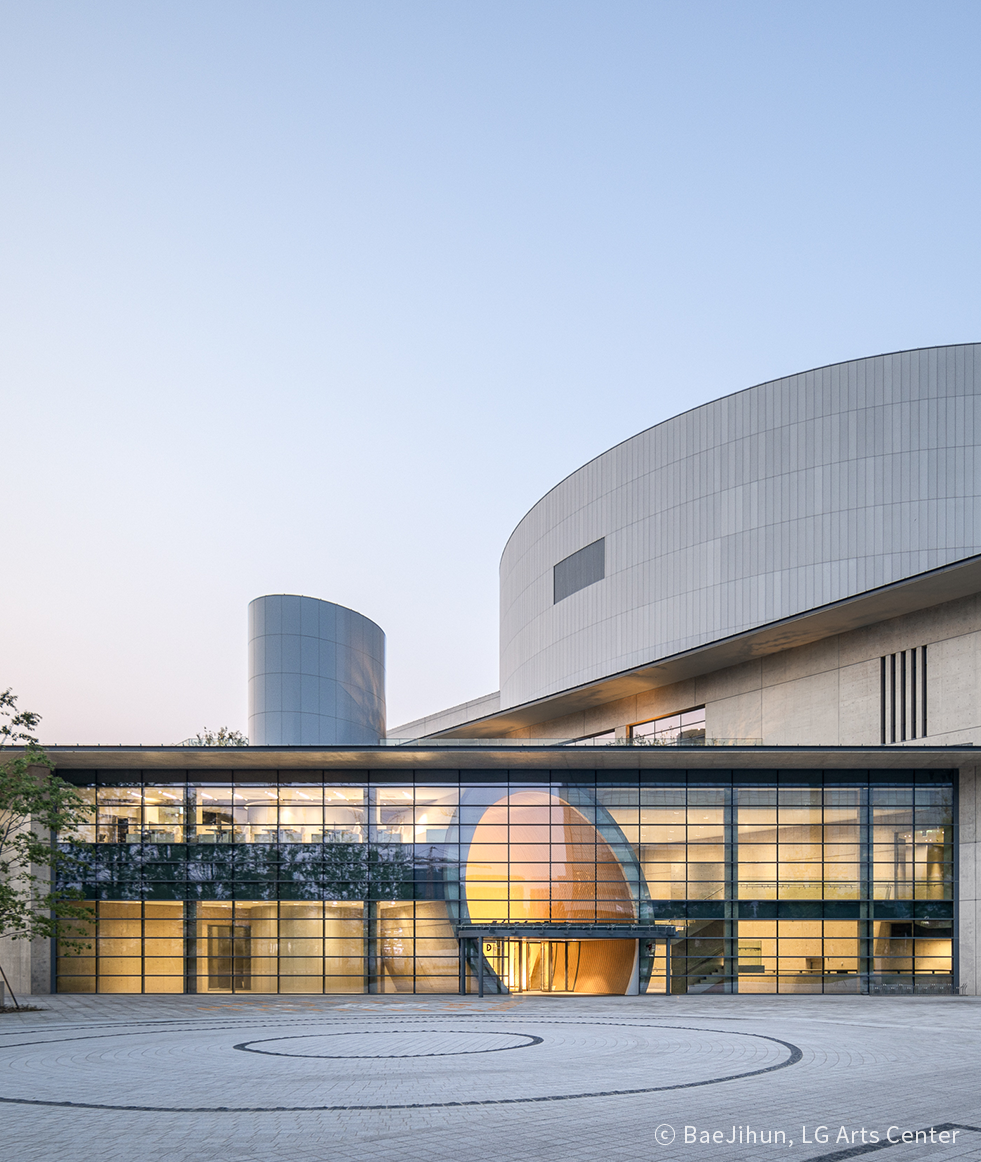 LG Arts Center is a non-profit performing arts center with the purpose of returning corporate profit to society through the creation and exchange of culture and performing arts.
Corporate social contribution through the operation of a performing arts center
LG Arts Center is operated by the LG Yonam Cultural Foundation with financial support from the LG Group.
By supporting culture and arts and fostering creative activities, LG Arts Center strives to present diverse values, contribute to the development of performance culture in Korea, and serve as the foundation of a prosperous life for Korean citizens.
The center that introduces trends of contemporary performing arts and lead the change in the Korean performance industry
From March 2000 to February 2022, the LG Arts Center operated in Yeoksam-dong, Gangnam-gu, Seoul.
The Center has pioneered the Korean contemporary performing arts scene by presenting world-class performances not to be missed. LG Arts Center is also Korea's first performing arts center to adopt a 'no complimentary tickets' policy, season program system, and package ticket system.
The 'LG Arts Center Seoul' is blooming into a new landmark of Seoul
After 22 years of operation, the LG Arts Center will be relocated to Gangseo-gu, Seoul in October 2022, opening under the new name of 'LG Art Center Seoul'. Newly nestled in Seoul Botanic Park, the LG Arts Center Seoul is designed by world-famous architect Tadao Ando. It is newly opening the LG SIGNATURE Hall, a 1,335-seat performance hall, and U+ Stage, a transformable black box theatre.
Boasting a total floor area of 40,000㎡, twice the size of the previous LG Arts Center in the Gangnam district, the LG Arts Center is designed according to three architectural design concepts of Tadao Ando: 'Tube, Gate Arc, and Step Atrium'. Through these concepts, the LG Arts Center will blooms into a landmark of Seoul, where the arts, science, nature, and citizens interact and performing arts and diverse cultures coexist.
History
March 2000

Opening of LG Arts Center (Yeoksam-dong, Gangnam-gu, Seoul)

2001

United States Institute for Theatre Technology (USITT · www.usitt.org) Architecture Awards

2003

4th Mecenat Presidential Award (LG Yonam Cultural Foundation)

2007-2022

No. 1 in the Performance Space category of the KS-SQI (Korean Standard-Service Quality Index) survey (16 consecutive years)

October 2022

Relocation of the LG Arts Center (Seoul Botanical Garden, Gangseo-gu, Seoul)

2023

41st Seoul Architecture Award Grand Prize(Architect : Gansam Co., Ltd. / Tadao Ando Architect & Associates)